Kingston to Ottawa Cycling
From AlanMacek.com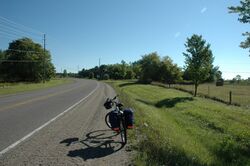 This trip was a solo cycling trip from Kingston to Ottawa, roughly parallelling the Rideau Canal. This trip was done over 6 days at the end of August and early September in 2005. Each cycling day was roughly 60km along the most direct route, although I tended to take less direct, but more interesting back roads. For accomodation, I stayed in bed and breakfasts - it is much easier to cycle when you know there is a warm bed and hot shower waiting for you at the end of the day.
I started the trip by taking the train with my bike to Kingston. The following day I cycled north to Westport. From there, I meandered north and east to Merrickville crossing the Rideau River a total of 4 times. I did a day trip to Smith Falls from Merrickville and spent a second night in Merrickville. On the last cycling day, I travelled north along the Rideau River to Ottawa. The next morning, I packed up my bike in a box and took the bus back to Toronto.
I estimate that the total distance cycled was about 300km over 4 days of cycling.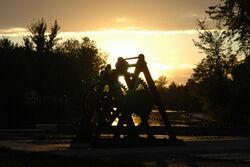 The more detailed description of the trip (with photos) is on the following two pages.

I took over 450 photos on the trip and have uploaded about 80 to this website. There are various ways to navigate the photos.
First, by city or town (which misses all the rural photos):

Secondly, by theme (which misses random photos):
Finally, all the photos in a giant chronological gallery: